Professor James N'Dow from Roy Stewart on Vimeo.
We are currently in the midst of our third fundraising project with the objective being to raise £1,285,000 to firstly:
Continue the general support that UCAN offers throughout the North East:
This includes the current services offered including our UCAN Centre and our team of specialist nurses as well as off site education and awareness raising.
Fund the expansion of the absolutely vital and wonderful specialist nurse team:
It is evident that one of the most effective and appreciated UCAN funded service development has been the support provided by the UCAN urological cancer centre specialist nurses; patients and their families tell us so. They have also seen the incredible improvement in support now experienced by Prostate cancer patients and their families and they want the same standard of care for the other urological cancers (Bladder, Kidney, Testicular and Penile cancers).
As UCAN Chair Justine Royle outlines, "Currently our UCAN nurses do a wonderful job providing super-specialist prostate cancer support (Kevin Wardlaw) and general urological cancer support services (Linda Pennet, Debbie Munro, Katy Gunn and Lesley Simpson) and in this area we would like to expand to ensure that we continue to stand apart as the leading force in transforming the care cancer patients and their families require."
An expansion of our super-specialist services should be supported to plug long-term major gaps in the service in the following way:
Bladder cancer super-specialist nurse
Incontinence & stoma super-specialist nurse
Kidney, penile, testis cancer super-specialist nurse
This proposed development will ensure the North of Scotland will stand apart and be recognised by patients, their families, other Scottish centres and other international centres as the leading force in transforming the care cancer patients and their families need.
They (UCAN staff) became a part of the family." Adam Lawie
Fund the purchase of an MRI directed biopsying machine for early prostate cancer diagnosis: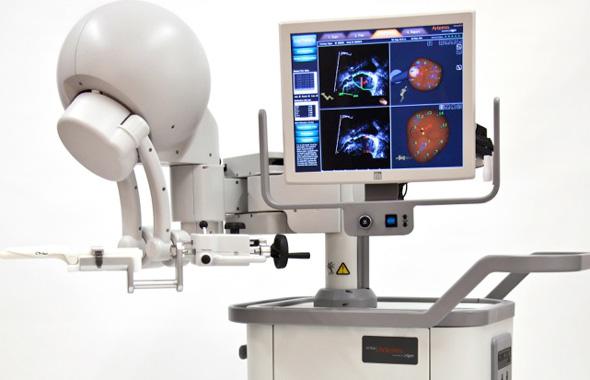 Thus enabling detection before it is too late and undoubtedly leading to a significant increase in survival rates in the future.
Justine Royle details the potential benefits a new robot would bring. "Technology has moved on since 2010 and we would like to purchase new equipment in order to continue with our world class system to diagnostic service for men with prostate cancer."
That system is vital to diagnose tumours that would otherwise be undetected until they were incurable.
---
To date we have raised
How you can help:
You can
• Send a cheque made payable to UCAN to: UCAN office, Foresterhill Health Centre, Westburn Road, Aberdeen AB25 2AY
• Use the justgiving link below.

Please email ucan@abdn.ac.uk with any queries.
Fundraising With Confidence
We are registered with the Fundraising Regulator and have made a public promise to adhere to best practice, honesty, transparency, clarity and accountability in all fundraising activity, enabling you to give with confidence.
We hope that our membership will build trust and confidence in charitable giving and, ultimately, encourage more people to provide vital support for those with urological cancers.
Should you have any concerns about the way we fundraise, we have a robust complaints process. We encourage you to get in touch with your feedback.
To make a complaint, please call (01224)  553104 or email us at ucan@abdn.ac.uk.